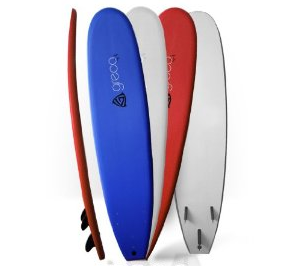 | | | | | | | | | |
| --- | --- | --- | --- | --- | --- | --- | --- | --- |
| Day(s) | 1 | 2 | 3 | 4 | 5 | 6 | 7 | Add'l Day |
| Rate | $60 | $67 | $74 | $81 | $88 | $95 | $95 | $7 |
| | |
| --- | --- |
| Day(s) | Rate |
| 1 | $60 |
| 2 | $67 |
| 3 | $74 |
| 4 | $81 |
| 5 | $88 |
| 6 | $95 |
| 7 | $95 |
| Add'l Day | $7 |
SOFT SURFBOARD RENTAL
This 8′ long high quality foam board is one of the leaders in foam board innovation. It has been used by top rated surf schools and proven to be effective for learning and advancing. It is thick and wide so that beginners feel comfortable, yet with some intermediate and advanced features so that all levels may use it. This board is made with safety in mind, as it is much softer than a traditional fiberglass board and has rubber fins. Each board comes with a leash.
Size Recommendation: Recommended for those 250 pounds or less.
Product images are for illustrative purposes only and may differ from the actual product.